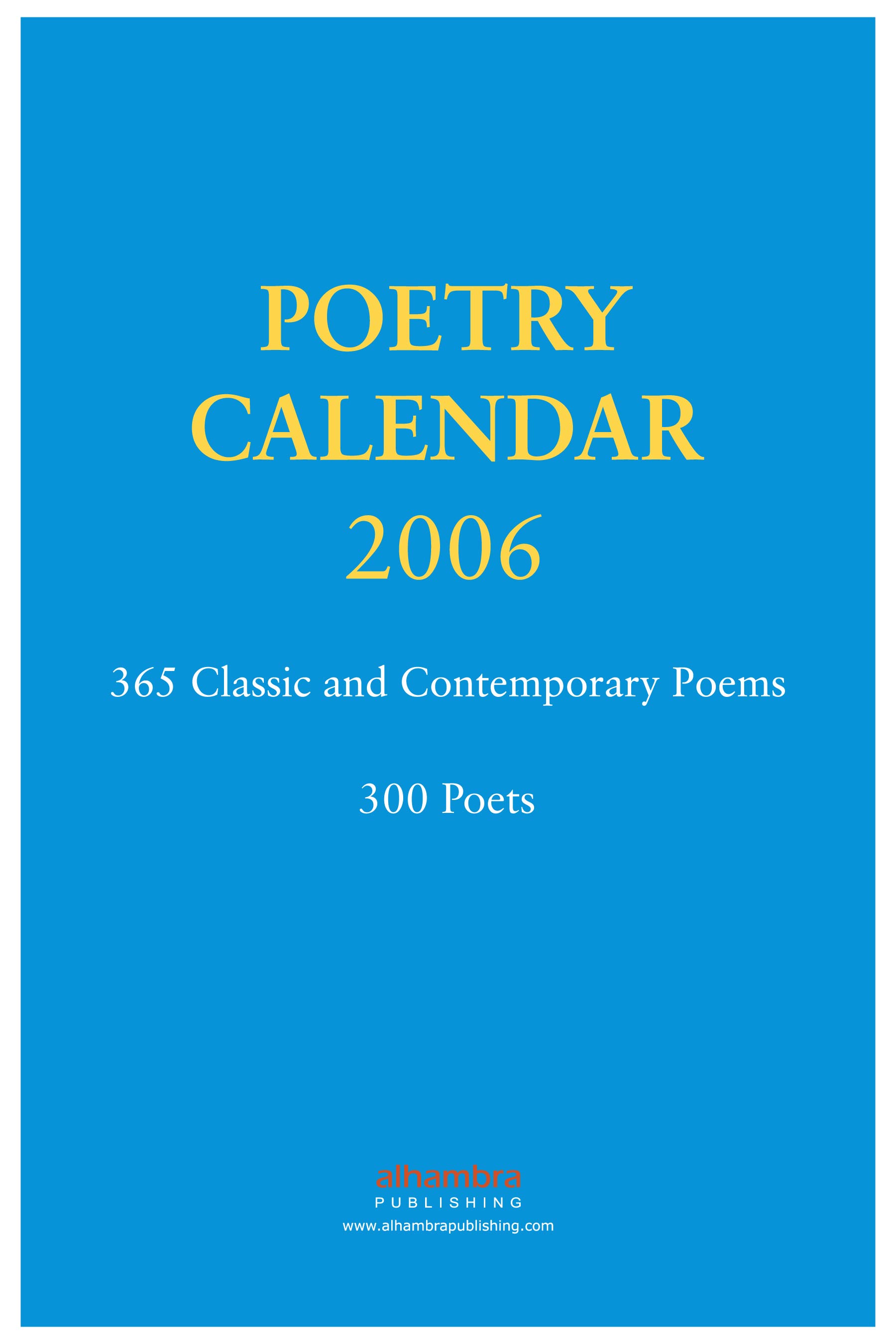 POETRY CALENDAR 2006
365 Classic and Contemporary poems
A surprise-desk calendar and a poetry anthology in one, this beautifully designed and presented book contains 365 poems by 300 poets. Meant for your desktop or bedside table, the calendar showcases work by some of the best British and American poets from the 14th to the 21st century. You'll rediscover many of your favorite classics in English poetry, and welcome an introduction to the most exciting work by well established as well as new and emerging British and American poets. Poets include current and a number of past UK and US National and State Poet Laureates.
Here you will find poets paying tribute to life in all its kaleidoscopic manifestations: there are poems about love and passion, family and friendship, happiness and loss, birth and death, youth and aging, the natural world and the contemporary city life, and poems to celebrate occasions. There are poems that sharpen intellect and enrich sensibility, poems that move the spirit and excite the senses. These poems explore universal themes and offer meditations on public issues and private matters.
The collection is edited in such a way as to present the best and the most eclectic in classic and contemporary poetry. Encompassing a wide range of poets and poetic styles, the calendar also exhibits changes in poetic forms and the evolution of the English language in poetry.
Poetry Calendar 2006 invites you to read one poem (just one!) each new day. Designed for convenience, it is indexed according to author/title, and first line. More than a calendar, Poetry Calendar 2006 is a book to keep!
Makes a Perfect Holiday and Birthday Gift All Year Round.
ISBN 2-87448-007-X
Price: EUR 25,95
Price: $ 29.95
Pages: 498
ALLEN • ALLMAN • ALVI • ANDERSON • ANDREWS • ARMITAGE • ARNOLD • BACON • BAGGOTT • BAKER • BALDWIN • BARNES • BASS • BATEMAN • FRANCIS BEAUMONT • JEANNE MARIE BEAUMONT • BECKMAN • BEHN • BELL • BERNSTEIN • BLAKE • ELY • BOLAND • BRADSTREET • BRIDGES • BRODY • BRONTÉ • BROOKE • BROUWER • ELIZABETH BARRETT BROWNING • ROBERT BROWNING • BRYANT • BURNS • BYER • BYRON • CAMPBELL • CAMPION • CARRO CAREW • CARRUTH • CHANG • CHAPPELL • CHAUCER • CLANCHY • CLARE • CLARK • CLEARY • CLOUGH • CLOVER COLEMAN • COLLIER ° BILLY COLLINS • MARTHA COLLINS • COMER • CONSTANTINE • COOLEY • CORDING • COULETTE • COWLEY • COWPER CRANE • CROOKER • DEBORAH CUMMINS • JAMES CUMMINS • DEFOE • DENHAM • DENNIS • DICKINSON • DINGS • DI PIERO • DONNE • DOTY • DOVE • DRAYCOTT • DUGDALE • DUHAMEL • DUHIG • DUNBAR • DUNN • DYBEK • EDGAR • EMERSON • EVERSON • FEIN • FELD • FELDMAN • FENNELLY • FERRY • FIELD • FINCH • FLATMAN • FORHAN • FRENEAU • FROST • FUNKHOUSER • GALVIN • GIBB • GIOIA • GIZZY • GOLDSMITH • GOOGE • GORHAM • GRAHAM • GREGER • GREVILLE • HADAS • HALL • HAMBY • HAMILL • HARDY • HARRISON • HASHMI • HAWKEY • HAXTON HAYDEN • HEFFERNAN • HENNESSY • EDWARD HERBERT • GEORGE HERBERT • HERNANDEZ • HERRICK • HICOK • HIRSCH • HIRSHFIELD • HIX HOAGLAND • HOLLANDER • HOLMES • HOOD • HOPKINS • HOWE • HOWELL • HUDGINS • HULME • HUNT • HUNTINGTON • JACKSON • JARMAN • JENKINS • JOHNSON • JONSON • KAPOVICH • KEATS • BRIGIT PEGEEN KELLY • ROBERT KELLY • KENNEDY • KHALVATI • KILMER • KIRBY • KIRCHWEY • KLEINZAHLER • KOESTENBAUM • KOETHE • KOOSER • KRYSL • KUMIN • LANDAU • LANDOR • LANIER • LAWRENCE • LEAR • LEHMAN • MARK LEVINE • PHILIP LEVINE • LIARDET • LINDSAY • LOCKWARD • LOGAN • LONGFELLOW • LOVELACE • AMY LOWELL • JAMES RUSSELL LOWELL • LUX • LYNCH • MARLOWE • MARVELL • MASTERSON • MAZER • MAZUR • McCLATCHY • McHUGH • MEHIGAN • MELVILLE • MEREDITH • MERRILL • MEZEY • MILTON • MINHINNICK • MOORE • MORGAN • MORRIS • MOTION • MUENCH • MULDOON • MUSKE-DUKES • NEZHUKUMATATHIL • NIKOLAYEV • NOBLES • NORDHAUS • NORTHROP • NYE • O'BRIEN • ORLEANS • OSTRIKER • OWEN • PADEL • PARMENTER • PASTAN • PATMORE • PEACOCK • PETIT • PHILIPS • PHILLIPS • PINSKY • PLUMLY • POE • POLLIFT • ALEXANDER POPE • JACQUELYN POPE • POWELL • PRIOR • QUARLES • RAAB • RALEGH • RAZA • REDDY • REKDAL • RICH • RICHARDSON • RILEY • RIORDAN • ROBERTS • ROHRER • ROLLINSON • ROSENBERG • CHRISTINA ROSSETTI • DANTE GABRIEL ROSSETTI • RYAN • SAGE • ST. JOHN • SAMPSON • SCHULMAN • SCHWARTZ • SCOTT • SEEGER • SEWELL • SHAKESPEARE • SHAPIRO • SHARE • SHELLEY • SHEPHERD • SHIELDS • SHIPLEY • SHIRLEY • SIDNEY • SIKELIANOS • SIMIC • SKELTON • SKINNER • SKLAREW • SKOYLES • SLEIGH • SMITH • SNODGRASS • SNYDER • SOUTHEY • SOUTHWELL • SPAHR • SPICER • SPIRES • SPRACKLAND • STANLEY • STATON • STICKNEY • STRAND • SUÁREZ • SWEENEY • SWIFT • SWINBURNE • SZIRTES • TATE • TAYLOR • TEASDALE • TENNYSON • THOMAS • TRAHERNE • TWICHELL • VAUGHAN • VIOLI • WACHTEL • WAGONER • WALLER • WARREN • WATERS • WATTS • WHITMAN • WICKS • WIER • WILDE • C. K. WILLIAMS • MILLER • WILLIAMS • JOHN HARTLEY WILLIAMS • WILMOT • WILNER • WIMAN • WOLOCH • WORDSWORTH • WORMSER • WOTTON • WRIGLEY • WYATT • WYLIE • YAU • YENSER • EDWARD YOUNG • GARY YOUNG • ZAPRUDER
© Alhambra Publishing
All rights reserved
Questions? Comments? send e-mail to Webmaster
Last modified: October 6, 2006